Northern California's leader in zero maintenance surfaces for your bath and kitchen
We specialize in non-porous material which means you will never have to use a sealer. Stains remain superficial and easy to remove with soap and water.
Our solid surface materials can be cleaned with abrasive cleansers such as Ajax and Comet making them ideal for hard water and soap scum. With a seamless non-porous surface, we can guarantee our surface will not facilitate the growth of mold or mildew.
Specialize in seamless installation and fabrication
With our patented method, showers and countertops can be installed completely seamless with no grout or caulking. Our showers feature a consistent flowing surface from the top of the walls down to the drain and pan itself with no crevices, corners or seams for dirt to collect. No space is too big or small since we custom fabricate our shower pans, shower walls, counters and sinks.
Our waterproof shower enclosures require minimal preparation and no additional waterproofing. Since moisture has nowhere to penetrate you do not need to tape/texture the drywall or lay down a hot mop or waterproof membrane.
Simply put up moisture resistant sheetrock and leave the subfloor bare. Typical bathrooms and kitchens can be installed in one to two days with installation taking place one week after final measurements.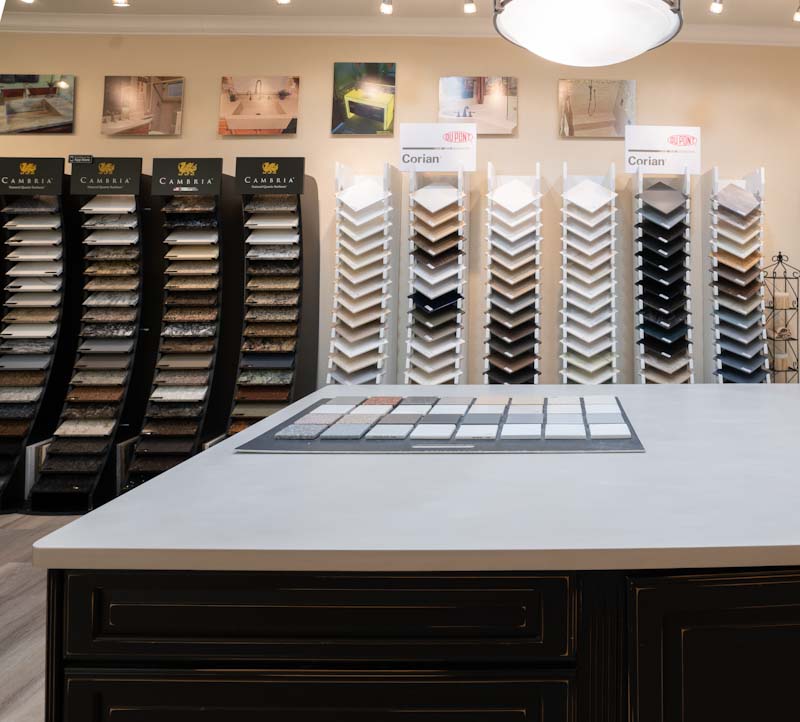 We have a beautiful showroom
Signature Surfaces has knowledgeable friendly staff to assist you with material selection, color selection and your design process. We take our time to ensure that your decisions are made with complete confidence.
Visit our showroom where you can view hundreds of samples and full shower and kitchen displays using most of the brands we carry in numerous styles. Stop in anytime to get personal help with colors and an introduction our products. We are open 7:00 to 4:00 during the week and 10:00 to 2:00 on Saturday with no appointment needed. Our shop is attached to our showroom so you can even see where your custom project will be fabricated.
Innovative designs and applications
At Signature Surfaces all showers, counters, bathtubs, floors and a range of kitchen and vanity sinks are custom made in house. Our years of experience guarantee we can develop and create a solution for any project. Nearly all of our products can be tailored to your specific need whether it be size constraints or irregular shapes.
Family owned and operated
With over 30 years of experience in the industry Ramiro is intimately familiar with the processes of fabrication and installation. With the help of his wife Jacque and two sons Signature Surfaces is family owned and operated. Today, with thousands of projects installed Signature Surfaces is the leader in Solid Surface and low-maintenance materials.